AIRCRAFT HANGARS, HELICOPTER HANGARS & AIRPLANE HANGARS WITH FULL CONSTRUCTION PACKAGE
Springfield Steel Buildings can design, supply and install aircraft hangars for light aircraft and helicopters for both commercial and private use.
Enquire online today for a free Quote.
Steel Aircraft Hangars for Commercial & Private Use
Aircraft hangars are large structures designed to house and protect aircraft. They are typically constructed using steel or other durable materials, and can vary in size depending on the size and number of aircraft they are designed to accommodate.
When it comes to aircraft hangars, the most important factor is the protection of the aircraft from the elements. Hangars are typically designed with large doors that can be opened and closed quickly, allowing aircraft to enter and exit the hangar easily. The walls and roof of the hangar are designed to withstand high winds, heavy snow, and other weather conditions.
Springfield Steel Buildings offer a wide range of aircraft hangars to provide open-plan spaces for aircraft owners.
Our aircraft hangars offer many options for protecting any aviation vehicle from the elements and create a comfortable environment for aircraft storage, maintenance, and equipment.
Our aviation structure experts will help you design and implement an airplane hangar or aircraft hangar that is suitable for your needs. Should you require it, our engineers will happily work with you to create a bespoke hangar that fits your exact needs. Focusing on custom features, we can build a hangar that offers protection, using a range of materials, your hangar will be constructed by experts.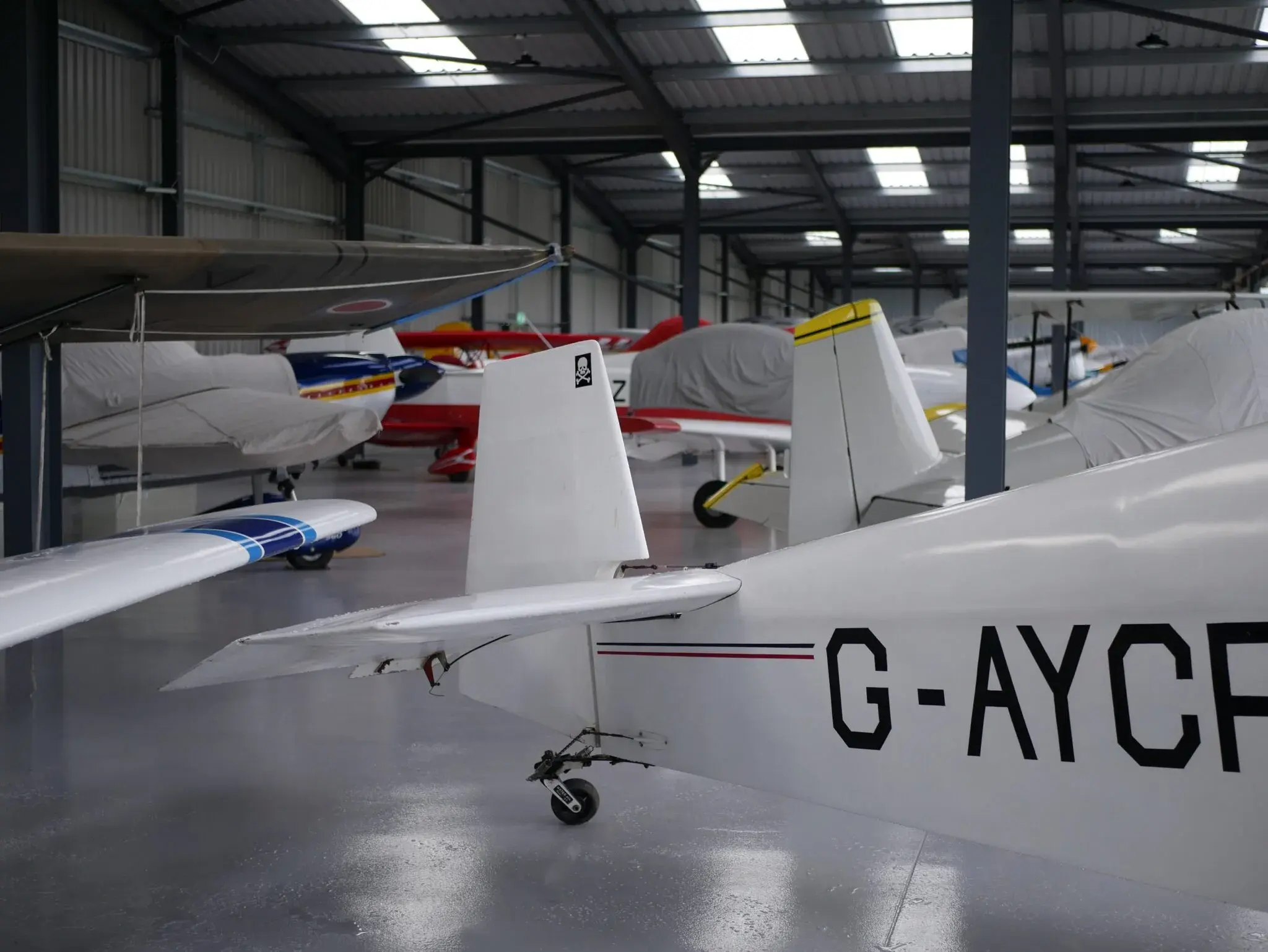 Custom Aircraft & Airport Hangar Design
At Springfield Steel Buildings we can work with you to design your building to the your specification and requirements. Creating an ideal space for storage and maintenance.

We can supply traditional aircraft hangar designs in cold rolled and hot rolled steel, or a combination of both. Our engineers can construct your building with the following options:
All buildings are available in our full range of colours with options of Single Skin plastisol sheets or Kingspan insulated panels.
Dual-pitch, mono-pitch, or multi-span designs can be provided.
We will work with you from drawing initial plans of the structure to completing the building. Whether you are looking for extra storage solutions, maintenance hangars, or extra protection, our cost-effective aircraft storage and hangars are designed bespoke for you.
Airplane hangars need to have large insulated doors, this is required for access to the hangar and will often take the cost out of reach of smaller operators. Here at Springfield Steel Buildings, we can offer your an aircraft hangar with removable mullions to allow more economical standard-size roller shutter doors to be used. Perfect for being able to accommodate the budgets of private aviation lovers.
We often liaise with large door manufactures to ensure each hangar has the correct door to fit the clients needs.

Lots of Options Available for Our Heli & Aircraft Hangars
Our hangar options are designed to give maximum floor space and security. Offering an ideal indoor space for storage.
By having an open plan floor area, you are able to utilise the space for any pre-flight checks that need carrying out on your planes or re-build projects.

If you have been searching for an aviation hangar specialist, we are the best people to come to. Our building options can be supplied as a kit or erected by our skilled team of installers. Perfect for your aircraft, we will build a structure that will give your planes or helicopters protection from the elements.
At SSB we act as an aviation portal for everything that is Aircraft Hangars.
Professional Construction Management for Your Maintenance Hangar
On selecting SSB, you are employing the services of a highly experienced team of civil engineers, structural engineers, contracts managers, and site managers that have many years of knowledge and expertise in the construction industry. This ensures that each and every project is carefully thought through, delivered safely, delivered on time, and within budget.
We advise on every aspect of a construction project from the planning stage to ensure your bespoke building project is carried out without any complication and following all health and safety standards.
Our construction workers are all full-time employees of SSB, they are all supervised by a working foreman which is the reason why we have a long-established and very strong client base with repeat national and international orders on a regular basis. Many of our clients are blue-chip companies that require the very best in Health and Safety
All our steel erectors and cladding operatives are full-time employees with training and knowledge in the safe, correct construction of our innovative Steel Framed Buildings. All Site operatives are CSCS and CCNSG Safety passport certified with the appropriate tickets in the use of Mobile Elevated Working Platforms and telescopic forklifts. Site supervisors have all passed the CITB – SSSTS and have attended a three-day emergency first aid course.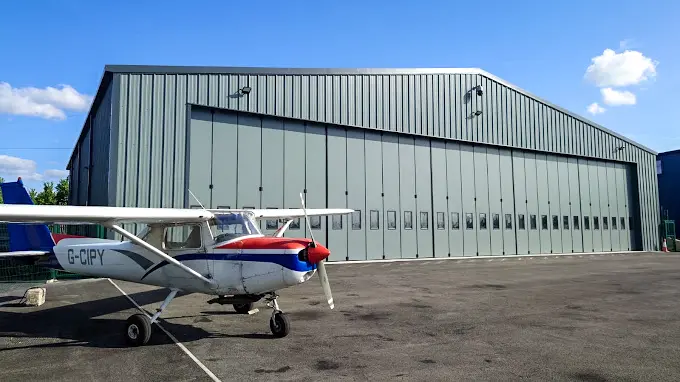 Structural Calculations & 3D Design Included for Our Aeroplane Hangars
Our estimating department can produce a 3-dimensional concept drawing and detailed quotation for your bespoke building within 24 hours of your initial enquiry. They will work through the design phase to determine your individual requirements. We will discuss what kind of systems you need in place, how you want the hangar designed, and then we will deliver exactly that.
Through the process, we will advise on budget changes and offer value-engineered solutions to ensure value for money is achieved. Our team will provide a fixed price for your project and advise on what is and isn't included.
This applies to both corporate aircraft hangar designs and private hangar designs. Giving you an aircraft hangar cost before we start building is important to us.
We will save you the expense of architects and structural engineers at the costing stage as our drawings are used for planning applications and all our structures come complete with structural calculations for the frame as this will be required for building regulations.
In addition to protecting aircraft from the elements, hangars also provide space for maintenance and repairs. Many hangars are equipped with tools and equipment to perform routine maintenance and repairs on the aircraft. Aircraft hangars can be found at airports, military organisations and bases, and private airfields. They are an essential part of the aviation industry, providing protection and maintenance facilities for aircraft of all types and sizes.
When it comes to designing and constructing an aircraft hangar, it's important to work with experienced architects and engineers who can ensure that the structure is safe, durable, and functional. Proper planning, design, and construction can help ensure that aircraft are protected and maintained in the most efficient and effective way possible.
Custom Airfield Hangars for Storage, Maintenance, and Protection
If you have an airplane or a helicopter and have been scouring for a business that can help you with hangar systems that once built offer storage, protection from the elements, and somewhere to maintain your aviation vehicle, give our team a call. Springfield Steel Buildings uses high-quality steel and materials to create bespoke airport hangars for both private and commercial clients.
Our heavy-duty steel buildings are perfect for protecting your airplanes and helicopters from the weather, we have built up a reputation for offering the best hangars on the market in the UK. If you need help designing a hangar, building a hangar or you need hangar plans to build a kit, then why haven't you called?
For more information, give us a call. Our team of engineers is always happy to discuss any specific requirements you have or questions. Let us help you build a home for your airplanes and helicopters. We look forward to speaking to you soon. Springfield Steel Buildings has always been and always will be on hand to help clients get new hangars for their aircraft that are custom designed and built at competitive prices. Give us a call today to find out more.
Our first-class services are available and are regularly delivered on a nationwide basis. Our Steel Framed Buildings all include free delivery in the UK and are available on our full range of buildings.
International deliveries outside the UK? Contact us at our main office in Yorkshire to see how we can help.
Invest in a company that has a reputation for supplying and installing high-quality aircraft hangars throughout the UK, contact Springfield Steel Buildings or give us a call on 01482 304504.