LIVESTOCK BUILDINGS & EQUESTRIAN STEEL BUILDINGS WITH CONSTRUCTION SERVICES, NATIONWIDE COVERAGE
Springfield steel buildings are leading designers, suppliers and installers of quality CE-rated equestrian buildings. All our steel farm buildings and groundwork packages are available nationwide.
Enquire online today for a free Quote.
Bespoke Agricultural Steel Buildings And Farm Buildings
Agricultural buildings, such as bespoke steel and farm buildings from Springfield Steel Buildings, play a vital role in modern farming operations. These purpose-built facilities are designed to provide optimal shelter and protection for livestock, crops, and agricultural equipment.
These structures are custom-designed to meet each farm's unique needs, considering size, layout, ventilation, and accessibility. Springfield Steel Buildings offers farmers a reliable and efficient solution to maximise productivity and safeguard their valuable resources, from barns and livestock shelters to storage units and processing facilities.
With a focus on functionality, sustainability, and cost-effectiveness, our buildings have become indispensable assets in the modern agricultural landscape, empowering farmers to thrive and meet the demands of a growing population.
We design all of our buildings to industrial specifications, including our range of rural buildings. As a customer, you are getting a building for agricultural use that exceeds the specification for agricultural steel buildings, which is essential. To learn more or order your new building, contact our team for our range of agricultural buildings!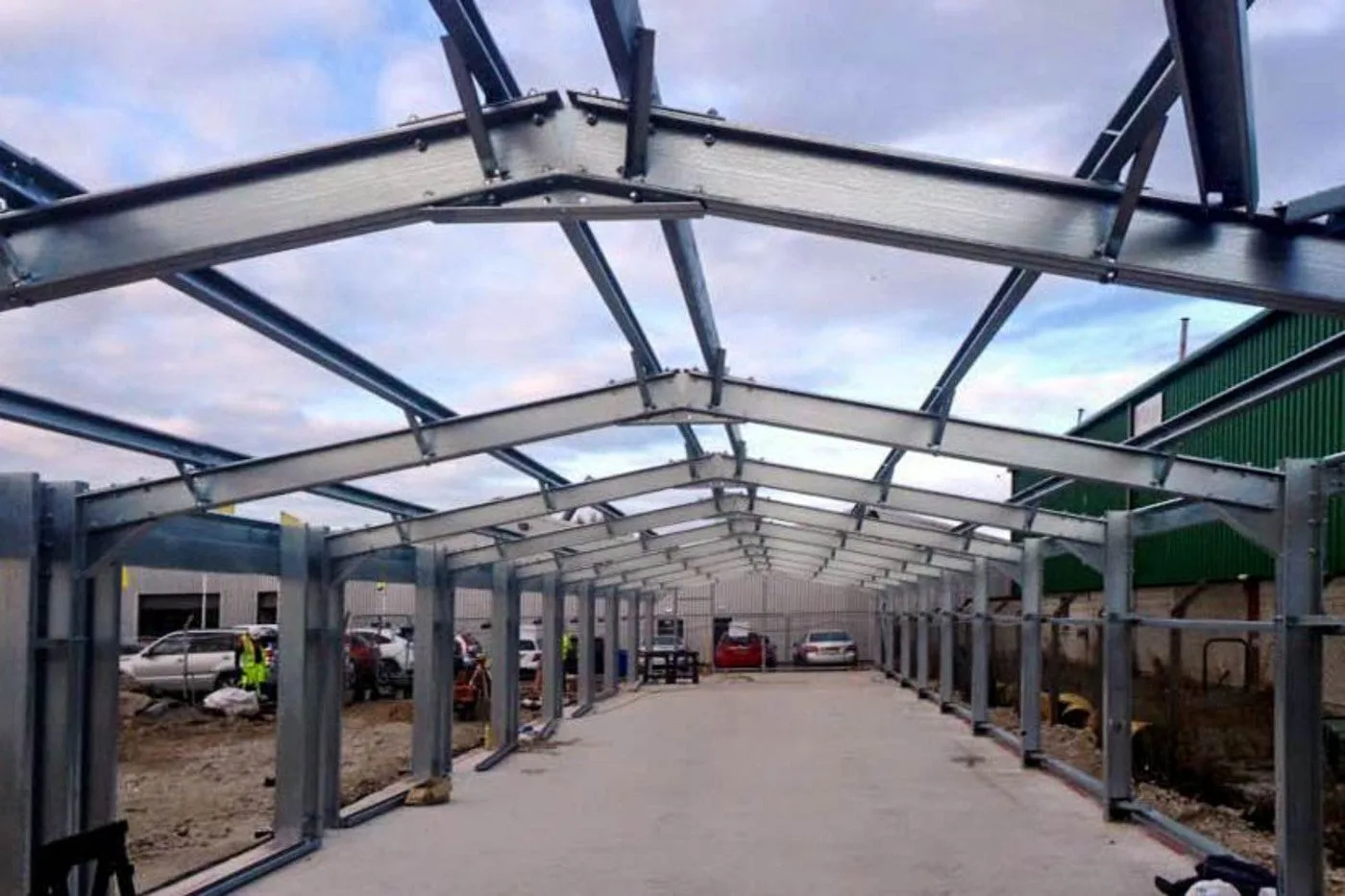 Expert Construction Management Of Farm Building Solutions!
When you choose SSB for your agricultural building project, you enlist the expertise of a highly experienced team comprising civil engineers, structural engineers, contract managers, and site managers with extensive knowledge in the construction industry; because of this, we can provide you with cost-effective agricultural buildings all at competitive prices!
Every project is meticulously planned, delivered safely, on time, and within the set budget. We provide comprehensive advice on all aspects of the construction process, starting from the planning stage, to ensure the smooth and complication-free execution of your bespoke building project.
At SSB, our construction workers are dedicated full-time employees supervised by a working foreman. This has contributed to building a solid and loyal client base with regular national and international orders from repeat customers. Many of our clients are prominent blue-chip companies with strict Health and Safety standards requirements, and we pride ourselves on consistently meeting their expectations, even in live environments.
Our steel erectors and cladding operatives are highly skilled and undergo continuous training to ensure our innovative agricultural buildings' safe and precise construction. All our site operatives hold CSCS and CCNSG Safety Passport certifications and are qualified to operate Mobile Elevated Working Platforms and telescopic forklifts.
Inclusive Structural Calculations & 3D Design
Our estimating department can produce a 3-dimensional concept drawing and detailed quotation for your bespoke building within 24 hours of your initial enquiry. They will work through the design phase to realise your requirements; this includes when the building has been erected.
Through the process, we will advise on budget changes and offer value-engineered solutions to achieve value for money. Our team will provide a fixed price for your project and advise on what is and is omitted.
We will save you the expense of architects and structural engineers at the costing stage as our drawings are used for planning applications, and all of our structures come complete with structural calculations for the frame, as this will be required for building regulations.
What Can You Use An Agricultural Building For?
Agricultural buildings serve as versatile and essential assets for various farming activities. These structures are designed to accommodate various agricultural needs, making them invaluable to farmers. One primary use of agricultural buildings is livestock shelters and barns, providing a safe and comfortable environment for animals to thrive.
They also serve as storage facilities for hay, grain stores, and farm equipment, protecting these valuable resources from the elements and pests. Moreover, agricultural buildings can be utilised as processing and packaging centres, facilitating the preparation of crops and produce for market distribution.
Additionally, these buildings can house workshops and machinery bays, enabling farmers to maintain and repair their equipment efficiently. Our agricultural and steel-framed buildings are suitable for various uses; we can cater for whatever you need!
With their adaptability and durability, agricultural buildings play a pivotal role in enhancing productivity and efficiency on the farm, contributing significantly to the success and sustainability of modern agricultural practices. Delivered in Kit Form, our team can build your entire agricultural building for you; all you need to do is have the ground cleared of debris!
Why Choose Springfield Steel Buildings For Your Farming & Equestrian Steel Framed Building?
We have provided farm buildings and steel buildings to customers across the UK for many years, so regardless of your needs and requirements, we're confident we can help.
Everything is on limits for our team, so call on our professionals if you're looking for a steel building for your farmland. Having listened to the feedback from our customers, some of the main reasons why we believe that you should choose us for your farmers' building are:
We supply across the UK
All of our buildings have a suitable external appearance
We work closely with both business owners and agricultural workers
Our buildings are long-lasting
Our competitive prices are highly affordable – Request a FREE quote!
The above points are just a few reasons you should choose us for your agricultural building. For further advice and information regarding our agricultural steel buildings, please waste no time and be sure to give our team a call today.
To find out more about us or any of our services, please feel free to give our team a call today. We're always happy to help with further information on the structure foundations, planning permission from the local planning authority, or the permitted development rights you may need to apply for, for prior approval. So, look no further than the experts at Springfield Steel Buildings for all your needs regarding agricultural steel buildings; you can also check out the previous projects we've worked on.
Our first class services are available and are regularly delivered on a nationwide basis. Our Steel Framed Buildings all include free delivery in the UK and is available on our full range of buildings.
International deliveries outside the UK? Contact us at our main office in Yorkshire to see how we can help.
CONTACT US FOR AGRICULTURAL BUILDINGS TODAY
Invest in a company with a wealth of experience and a reputation for supplying and installing high-quality agricultural buildings. Be sure to call on the experts at Springfield Steel Buildings. Whether you're searching for an agricultural building or an industrial steel building, our team is here.
We stock a range of steel buildings, so regardless of your needs and requirements, we will gladly help. For further advice and information regarding our selection of steel buildings, please contact Springfield Steel Buildings or call us on 01482 304504.