Steel Building Design & Planning Permission
EXPERIENCE THE PERFECT BLEND OF CREATIVITY AND PRECISION WITH TOP-NOTCH 3D DESIGN AND RENDERING SOLUTIONS TAILORED TO YOUR PROJECTS. WE ASSIST MANY OF OUR CLIENTS WITH THE SUBMISSION OF THEIR PLANNING APPLICATIONS, PROVIDING PLAN AND ELEVATION DRAWINGS, DESIGN AND ACCESS STATEMENTS, FLOOD RISK ASSESSMENTS AND ASSISTANCE IN DEALING WITH QUERIES AND DISCHARGING PLANNING CONDITIONS.
Enquire online today for a free Quote.
Complete Designs For Steel Buildings & Industrial Buildings
Our team here at Springfield Steel Buildings specialise in providing complete designs for steel and industrial building; we can provide you with a one-stop solution for all your structural needs. Leveraging cutting-edge design software and a team of seasoned engineers, we craft durable, cost-effective, and aesthetically pleasing steel structures that stand the test of time.
Our holistic approach covers everything from initial blueprints to final construction, ensuring that each industrial building we design meets rigorous safety standards and fulfils the specific requirements of our clients.
Whether you need help providing your local authority planning department with the correct planning application documents and designs, or you need evidence you are meeting all building regulations during your building project; we can help.
Whether you are looking for a new building design or want to expand commercial or agricultural buildings, our team can help you with the design and planning permission process. Get in touch today for more information! Our design and planning officers can work with you to approve your commercial buildings with your local planning department.
This makes sure any permitted development rights are met every time!
3D CONCEPT TO FINISHED PRODUCT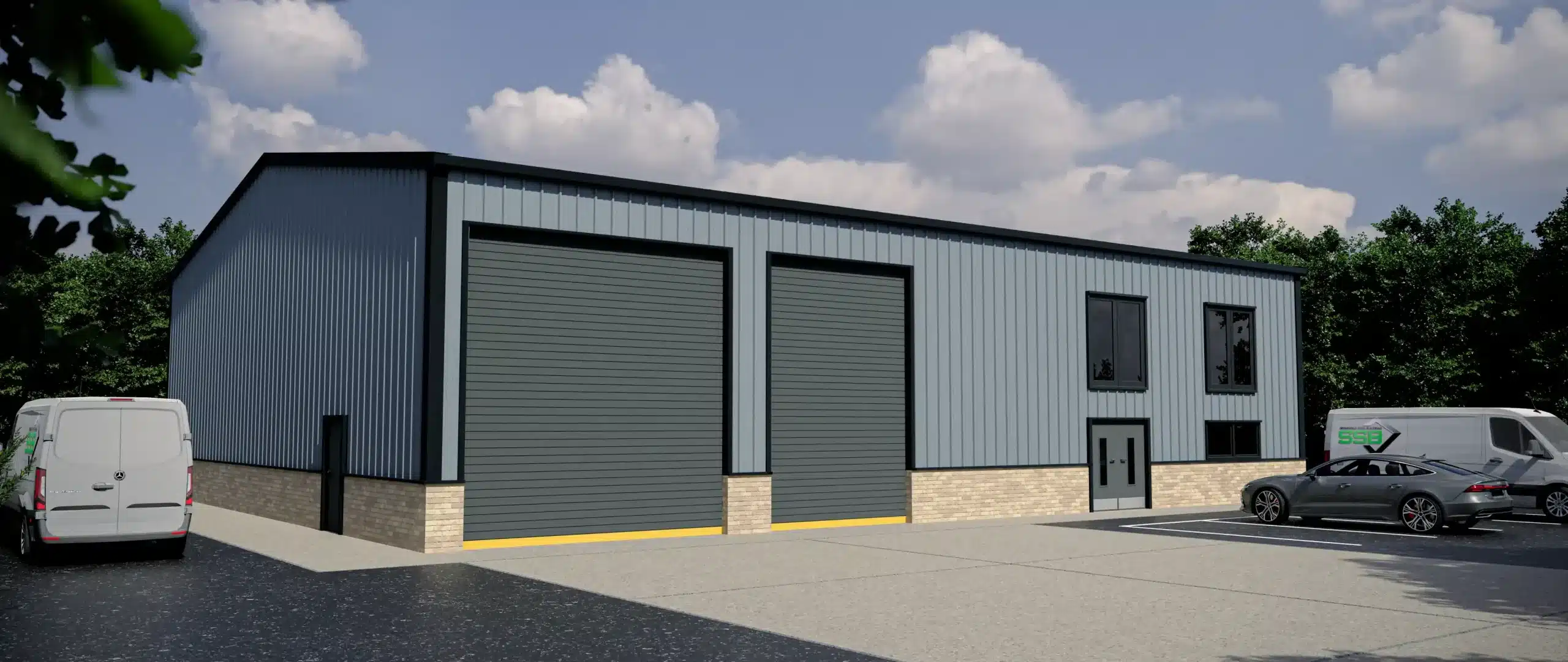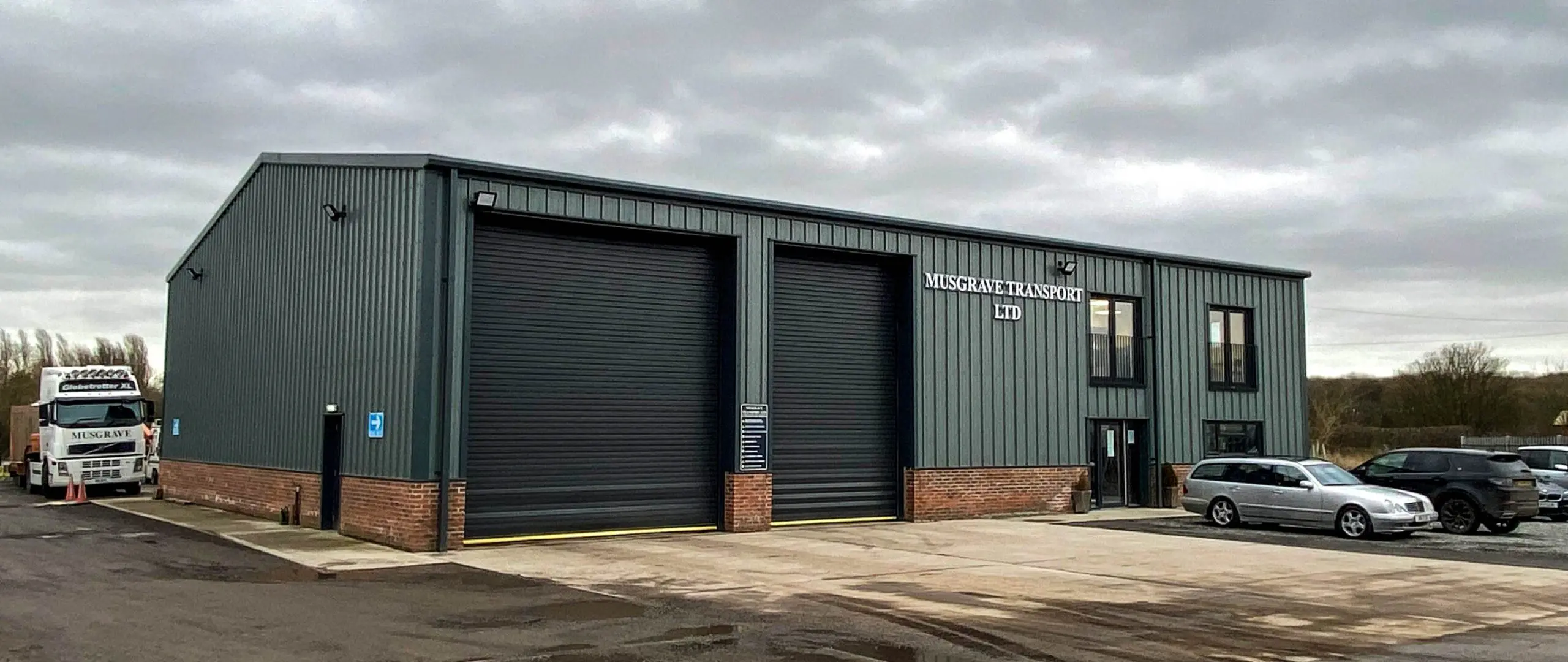 Designing a steel building can be challenging and complex for many clients, as visualising how the building will look in reality can be difficult. This obstacle often leads to ill-informed decisions about the design and features of the building. This is where the power of 3D design comes into play.
By utilising software and various tools to create precise and accurate 3D models of steel buildings, clients are offered a realistic visual representation of their potential building, which can significantly improve their decision-making process.
In the following sections, we will delve into the many advantages of 3D design in the steel building industry, outline how it works, and provide concrete examples of its usage for client visualisation and planning permission purposes. Our team can show you how external cladding systems will look at the design of your internal space and provide the information you need for permitted development!
Experience the unparalleled power of 3D Design as it transforms your concepts into vivid, interactive, and realistic creations that ignite your imagination, amplify your brand, and propel your design projects to unprecedented heights of success.
2D & 3D TECHNICAL DRAWINGS
Technical 2D design is creating detailed technical drawings using specialised software like AutoCAD. It uses various drafting tools and functions to illustrate mechanical, electrical, and architectural components accurately.
Technical 2D design is used in various industries like engineering, manufacturing, and construction, where accuracy and precision are crucial for ensuring that the final product meets the required specifications. The drawings produced in technical 2D design include detailed dimensions, annotations, and other technical information necessary. We offer this service for planning permission drawings.
We use 3D drawings as an alternative to expensive architectural drawings. The significant difference between 2D and 3D modelling in CAD is that 3D modelling adds a third dimension.
This means that 3D models contain more information than 2D models.
They represent the finished site as it will look in real life. 2D models, on the other hand, provide valuable information, but viewers are left to imagine what the final product will look like. Contact SSB today to see how our design team can help move your concept forward.
BESPOKE STEEL FRAMED BUILDINGS
Our skilled design team has been delivering 3D design for over 18 years, helping our clients expand and stand out. With unique partnerships around the UK, whatever the challenge, we can help take your idea from concept to construction, installation and dismantling. Our 3D Design services are ideal for bespoke buildings. Giving you a clear image of what we can offer.
The adoption of 3D modelling in construction has brought in many benefits. 3D modelling speeds up the design process and enables us to identify potential design problems before they become actual issues. 3D modelling in construction, by putting all the pieces together, provides an accurate view of the finished project.
3D modelling has changed the way we design for the better. Not only does 3D modelling help the designers and end users visualise space requirements, but it also improves drawing efficiency and accuracy. 3D modelling for design allows the designer to see what they would not see when designing in 2D.
Experts In The Local Authority Planning Department Laws
The planning process can be long-winded and very frustrating at times, especially when it's likely the only time you have had to complete it. Permitted developments are the only safe way to have your building installed securely; it is an important consideration when going for a pre-application. Why not have an informal discussion with our team today?
We assist many clients with submitting their planning applications, providing plan and elevation drawings, design and access statements, flood risk assessments, and dealing with queries and discharging planning conditions.
We have vast experience dealing with many local authorities throughout the UK. Please consult with us to help make your life easier from day one.
STRUCTURAL CALCULATIONS, CIVIL ENGINEERING DESIGNS, SBEM CALCULATIONS
We provide a complete set of structural drawings along with total structural calculations for building control approval with each building. All our buildings are designed to the customer's exact location to BS 5950 part 5. This service is included free of charge with all our steel buildings.
Here at Springfield Steel Buildings, to enable our customers to benefit from the most economical structures, we consult our design team to ensure that the building is structurally compliant and fit for purpose. This gives our customers a valued engineered bespoke steel building, which offers excellent value for money.
We offer our customers site investigation and foundation design services as part of our services. Our structural engineers will produce an economical concrete floor design for your site requirements and potential usage
Please contact us early in your project to ensure that the specifications and finished dimensions of the concrete are correct before your building arrives onsite.
EXPERTS IN LOCAL AUTHORITY PLANNING DEPARTMENT LAWS
New Government legislation was introduced in April 2010, which meant that planning permission for industrial buildings is optional, subject to the below limitations and conditions.
If a new building is within 10m of the area of land surrounding boundaries, then it must be at most 5m high. A new building is also not permitted to be taller than 15m or higher than the height of the tallest building within the surrounding area, depending on which is lower. The floor space of a new building must be at most 100 square metres, and the land outside must be at most 200 square metres.
For any alterations to existing buildings, planning permission is optional as long as the building is not going to be made higher than 5m tall, subject to being within 10m of the area boundary.
THESE ARE APPLICABLE TO THE FOLLOWING:
Development must be within the existing boundary of the current building and must not come within 5m of the surrounding area of land
Must not be within the boundaries of a listed building
Must not reduce car parking or turning space
New space must relate to the existing use of the building
The complete regulations for planning permission on Industrial Buildings can be found on the Government's Planning website.
Contact Springfield Steel Buildings For Steel Building Design And Planning Permission Guidance
Contact Springfield Steel Buildings for top-of-the-line steel building design and planning permission guidance. Our experienced engineers and consultants offer expertise from the initial concept to the final construction.
With the latest design software and an eye for detail, we create custom steel structures that are both durable and aesthetically pleasing. But our services continue with design; we also offer invaluable support in obtaining planning permissions, helping you navigate the complex regulatory landscape.
When you choose Springfield Steel Buildings, you're opting for a full-service experience that prioritises quality, durability, and compliance with local and national standards. Our planning portal specialises in offering the correct and lawful guidance on all of our steel building designs. Be sure to work with our team! Get in touch today.