Secure and Efficient Steel Storage Buildings and Warehouse Buildings with installation and Groundworks
At Springfield Steel Buildings, we are leading designers, suppliers, and installers of quality CE-rated steel storage buildings and warehouse buildings. Do you want more than just a steel building? We supply complete construction packages with nationwide delivery. The storage units we can offer you are designed to withstand the test of time!
Enquire online today for a free Quote.
Fully Galvanised Steel Buildings For Storage In The UK
Steel storage buildings, designed with the hard work and dedication characteristic of Springfield Steel Buildings, offer a robust solution for safekeeping a variety of items, from your clubhouse equipment to hazardous materials. Our expertise in steel construction allows us to provide tailor-made storage solutions, ensuring each building is engineered to meet your specific needs.
At Springfield Steel Buildings, we understand the importance of precision and quality in constructing steel-framed storage buildings. Our buildings are practical and aesthetically pleasing, with attention to details like eaves contributing to their overall design and functionality.
Our use of high-quality materials guarantees that your goods, whether custom cars or sensitive materials are stored optimally. This commitment to quality and customisation makes our steel storage buildings a reliable choice for all your storage needs.
For a bespoke steel storage solution that aligns with your specific requirements, contact Springfield Steel Buildings today. Let us help you secure valuable goods with our expertly crafted steel storage buildings.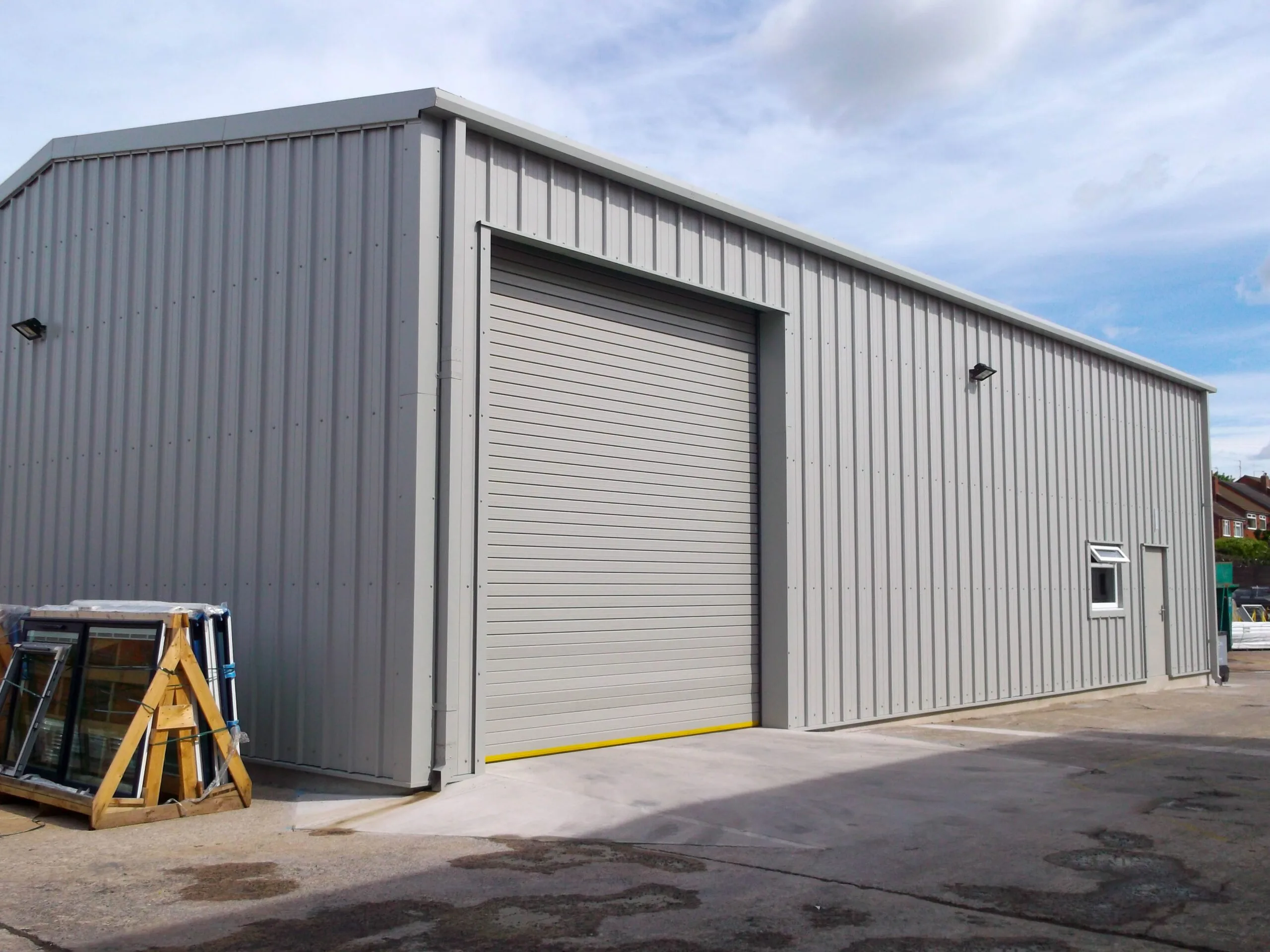 Sustainable, Light, Strong And Affordable Steel Storage
Our range of steel storage buildings offers a secure and professionally engineered solution tailored to your specific needs. These buildings are versatile, with options to include a mezzanine floor, expanding your storage capabilities as your needs evolve.
We pride ourselves on providing these services at competitive rates across the nation. To facilitate a smooth approval process, we include a complete set of structural drawings and calculations for building control approval with every steel building at no additional cost.
Our adept technical team excels in creating 3D concept drawings of your proposed building. This innovative approach allows you to visualise the final product without the added expense of hiring architects during the early costing phase.
Why Choose Us for Your Steel Storage Building?
When choosing your steel buildings, our team at Springfield Steel Buildings are here to take care of everything. We have an extensive range of steel buildings, from industrial units to storage buildings.
Some of the main reasons why we believe that you should choose us when shopping for a steel storage building include:
We have a range of steel buildings to choose from
We're here to offer expert advice
We serve the entire UK
We work with both industrial and commercial clients
Our steel buildings are cost-effective – Call us for a FREE quote!
The above points are just a few reasons you should choose us for steel storage buildings. For more information about us or for expert advice with choosing your bespoke steel building, we're here to help.
Our first-class services are available and are regularly delivered on a nationwide basis. Our steel-framed buildings include free delivery in the UK and are available on our full range of buildings.
International deliveries outside the UK? Contact us at our main office in Yorkshire to see how we can help. Invest in a company with a reputation for supplying and installing high-quality cold-rolled and hot-rolled storage buildings & warehouses throughout the UK; call us at 01482 304504.
Do You Need Planning Permission for a Steel Storage Structure?
You might wonder whether you need planning permission to add a steel storage structure to your property. We understand that planning permission requirements can be confusing at Springfield Steel Buildings. Generally, if the steel structure is a permanent fixture, you may need planning permission, but exceptions exist.
You may not need permission if the steel structure is for agricultural purposes or temporary use. Our team of experts can help guide you through the planning process and ensure your project complies with regulations.
Contact us today to discuss your project and learn more about our custom-designed steel buildings. Don't let planning permission hold you back from building the steel structure you need! Visit our website for more information.
How Can I Customise My Metal Storage Building?
One of the benefits of choosing a metal storage building is the ability to customise it to fit your specific needs. There are a variety of ways to customise your metal storage building. You can choose various colours and finishes to give your building a unique look.
You can also select from different sizes and shapes to ensure the building meets your storage needs. Additionally, you can choose from various doors, windows, and ventilation options to further customise the building.
Some other ways to customise your metal storage building include adding insulation to regulate temperature, installing gutters and downspouts for better drainage, or adding a mezzanine level for additional storage space.
At Springfield Steel Buildings, we offer a range of customisation options for your metal storage building. Contact us today to discuss your project and learn more about our custom-designed steel buildings.