We Supply Steel Framed Buildings - Springfield Steel Buildings
Springfield Steel Buildings are the UK's leading designers, suppliers and installers of steel frame buildings. All our bespoke buildings and groundwork's packages are available nationwide from our offices in Yorkshire.
Enquire online today for a free Quote.
Springfield Steel Buildings was established in 2005 with a simple goal, to provide a high-quality construction service that you can trust. We have years of experience supplying ce-marked commercial and industrial steel framed buildings. From industrial steel buildings to steel garages and through to agricultural buildings, we are the number one supplier of metal buildings.
We pride ourselves in providing our turn-key, cost-effective solutions nationally. Our steel frame structures are highly competitive without compromising on any loss of quality for the services we supply to our customers. We constantly strive to be a great place to work for our employees. Through every new steel building we install, we are helping create a more sustainable future.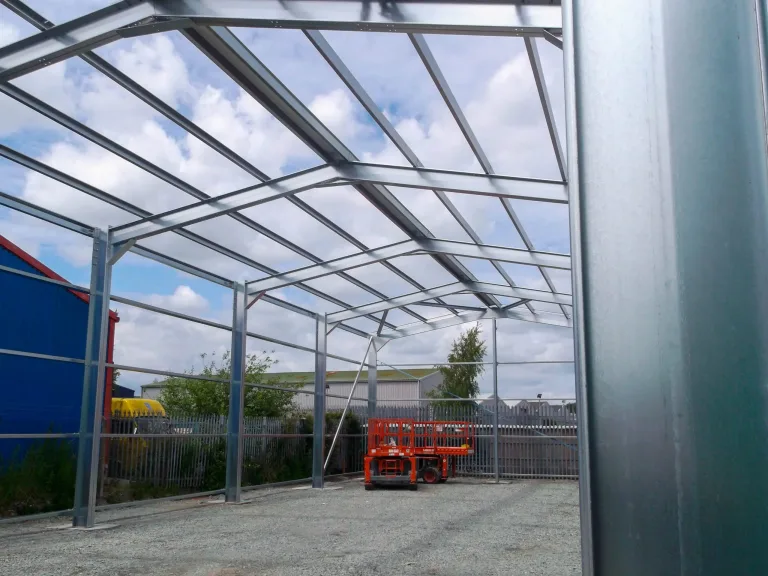 HIGH QUALITY STEEL BUILDINGS
Steel framed buildings can be a simple and rapid form of structure to erect, creating a vast, clear-span, weather-proof enclosure at a low cost and with little material, ideal for industrial buildings.
Our buildings are lightweight and can be fabricated off-site and then bolted to a substructure. This eliminates the need to 'cast in' bolts and columns. The portal frames may be left exposed to the internal space and, if carefully designed, can be very aesthetically pleasing.
We also offer internal finishing and groundwork at Springfield Steel Buildings, so give us a call today to see how we can push your site forward. Our team specialise in structural steelwork and are on hand to help design your own design; all you need is planning permission and a conversation with our team.
Compared to other materials, structural steel frame buildings are second to none; we recommend speaking to our team if you have unique requirements, do not attempt a self-build; our team can design your steel frame building with no issue.
WE DELIVER A TOP-QUALITY SERVICE
At Springfield Steel buildings, we work hand in hand with clients to understand their ideas, enabling us to deliver the best possible service, on time, on budget and with the safety of everyone in mind.
As we have been operating for over 15 years, we have a high returning customer base from small private clients to leading blue chip businesses.
With our excellent customer service and transparent quotations, you can rest assured we have your best interests at heart in saving you money on your project.
BESPOKE STEEL FRAMED BUILDING OPTIONS FOR YOU
Are you looking for aircraft hangars or building steel frame suppliers in the UK? At Springfield Steel Buildings, we're proud to offer steel-framed buildings and aircraft hangars to customers throughout the UK. Having supplied and installed steel frames for our industrial and commercial clients for many years, we have developed an incredible reputation for our quality of steel frames and our customer service.
Contact Us Today
Contact our specialist team today for more information regarding our steel frame installations. We will be happy to help with all your steel frame installation needs; whether you are searching for cold-rolled steel buildings, industrial units, commercial steel buildings or equestrian buildings, you will always receive a free no, obligation quote from our team here at Springfield Steel Buildings. Every steel-framed building will be of the highest quality!
Get a FREE quotation today!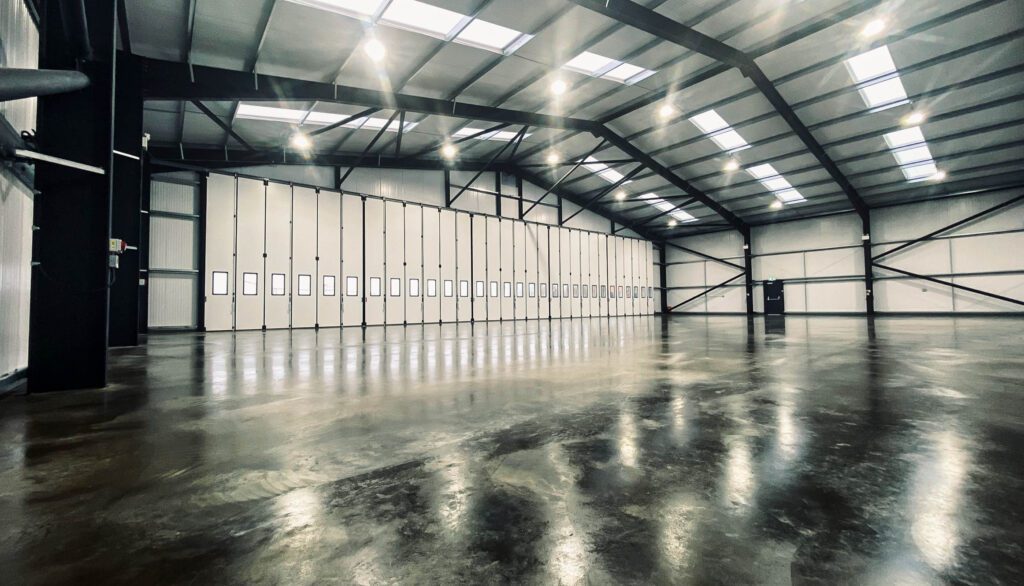 WHAT ARE THE ADVANTAGES OF STRUCTURAL STEEL BUILDINGS?
Structural steel components are lighter and stronger than similar weight-bearing wood or concrete products. The advantage of building in steel and using a steel frame is that the portal frame allows wide or high spaces to be spanned without interior walls or pillars. This gives the open, accessible storage spaces that can be used for warehouses, aircraft hangars, industrial buildings, agricultural buildings, storage units, workshop buildings, vehicle test centres and equestrian buildings for riding arenas.
Portal frame construction means that both the building costs and the construction times are reduced and offer more excellent durability and lower maintenance costs. Steel construction means better buildings in less time, and at a lower cost, so steel buildings come with many advantages, especially for the agricultural industry.
CONSTRUCTION SERVICES & STEEL FRAMED BUILDINGS
With a combined construction knowledge of over 60 years in the SSB office, we can provide our customers with quality advice and guidance on any project. We pride ourselves in offering our customers much more than just a bespoke cold-rolled steel building.
We work with our clients to provide a complete turn-key package; we can supply you with detailed costings for groundwork, drainage services, brickwork and blockwork, windows, internal joinery, plumbing and electrics, and professional installation of the structural steelwork, insulated cladding, roller doors and steel security doors.
BESPOKE STEEL BUILDINGS & STRUCTURES
Our buildings are designed according to your site and to British Standards. Therefore, they can be tailor-made to any dimensions you require. They are commonly used for:
Contact us today to see how our portal frame technology can create the maximum floor space for your investment.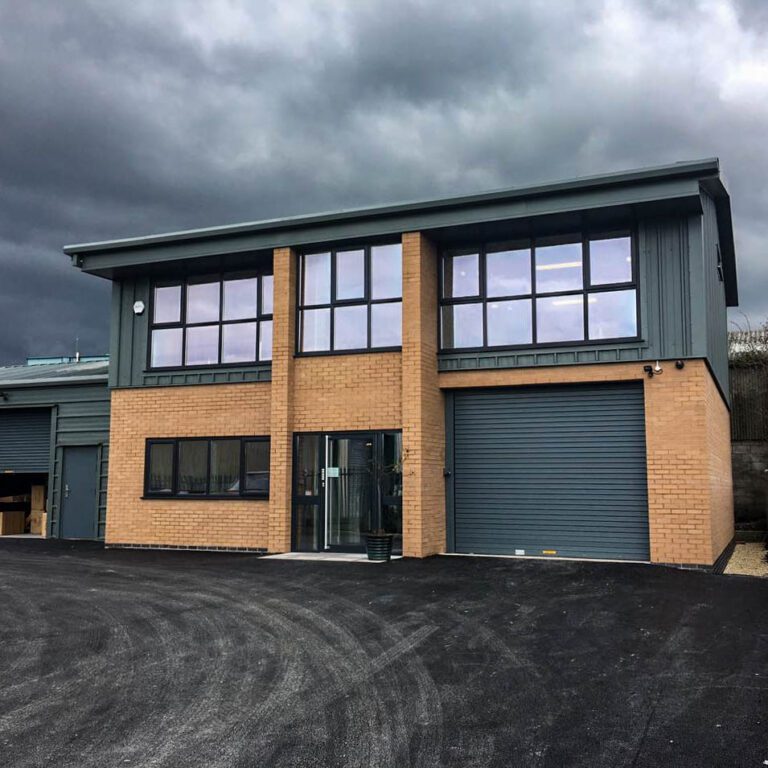 PROFESSIONAL CONSTRUCTION MANAGEMENT
In selecting SSB, you are employing the services of a highly experienced team of civil engineers, structural engineers, contracts managers and site managers with many years of knowledge and expertise in the construction industry. This ensures that every project is carefully thought through, delivered safely, and delivered on time and within budget.
We advise on every aspect of a construction project from the planning stage to ensure your bespoke building project is carried out without any complications.
CONSTRUCTING STEEL BUILDINGS FOR MANY YEARS
Our construction workers are all full-time employees of SSB; they are all supervised by a working foreman, which is why we have a long-established and solid client base with repeat national and international orders regularly. Many of our clients are blue-chip companies requiring the best in Health and Safety, and we often provide our services in live environments.
All our steel erectors and cladding operatives are full-time employees with training and knowledge in the safe, correct construction of our innovative Steel Framed Buildings. All Site operatives are CSCS and CCNSG Safety passport certified with the appropriate tickets for using Mobile Elevated Working Platforms and telescopic forklifts. Site supervisors have all passed the CITB – SSSTS and have attended a three-day emergency first aid course.
Our first-class services are available and are regularly delivered on a nationwide basis. Our steel frame buildings all include free delivery in the UK and are available on our full range of buildings.
We supply a range of services throughout the UK, so no matter if you're searching for an aircraft hangar or steel building service, our specialist team is here for you. Find out more about our projects, and get in touch with our team today. We're here to create a cost-effective solution to your building requirements.
International deliveries outside the UK? Contact us at our main office in Yorkshire to see how we can help.
Invest in a company with a reputation for supplying and installing high-quality steel framed buildings throughout the UK; contact Springfield Steel Buildings or call us on 01482 304504.
We're here to help no matter what; whether it's discussing a solution for your process or recent projects, we have years of industry experience behind us. From a steel building to an aircraft hangar, our team of experts is here to create a solution that caters to all your needs.
Find out more about our process, price, maintenance or repair work and please do not hesitate to give our team a call today.