Bespoke Steel Building Installation
INSTALLATION WORK IS CARRIED OUT BY FULLY TRAINED AND EXPERIENCED OPERATIVES WITH ATTENTION TO DETAIL THROUGHOUT TO ENSURE A HIGH STANDARD UPON COMPLETION OF OUR WORK. OUR TEAM FOCUS ON ALL THE BUILDING COMPONENTS TO ENSURE YOUR STEEL BUILDING INSTALLATION GOES SEAMLESSLY.
Enquire online today for a free Quote.
STEEL BUILDING INSTALLATION SERVICE FOR ALL STEEL STRUCTURES
Steel is the material for many businesses and individuals when constructing durable, cost-effective, and versatile structures. Springfield Steel Buildings specialises in steel building installation services for a wide array of steel structures, ranging from warehouses and garages to multi-story office buildings.
Leveraging state-of-the-art technology, our team of skilled engineers and craftsmen ensure that each project is executed to the highest quality standards. Our streamlined process includes everything from initial consultation and 3D design to on-site assembly, ensuring a hassle-free experience for our clients.
With a keen focus on sustainability and efficiency, we aim to complete each project on time and within budget while adhering to all safety regulations. Choose Springfield Steel Buildings for your next steel building project and experience the difference that expertise and dedication can make.
If you have been searching for a steel building installation service, you are in the right place; the structural stability of your steel building is vital to us, so we specialise in offering bespoke installation solutions!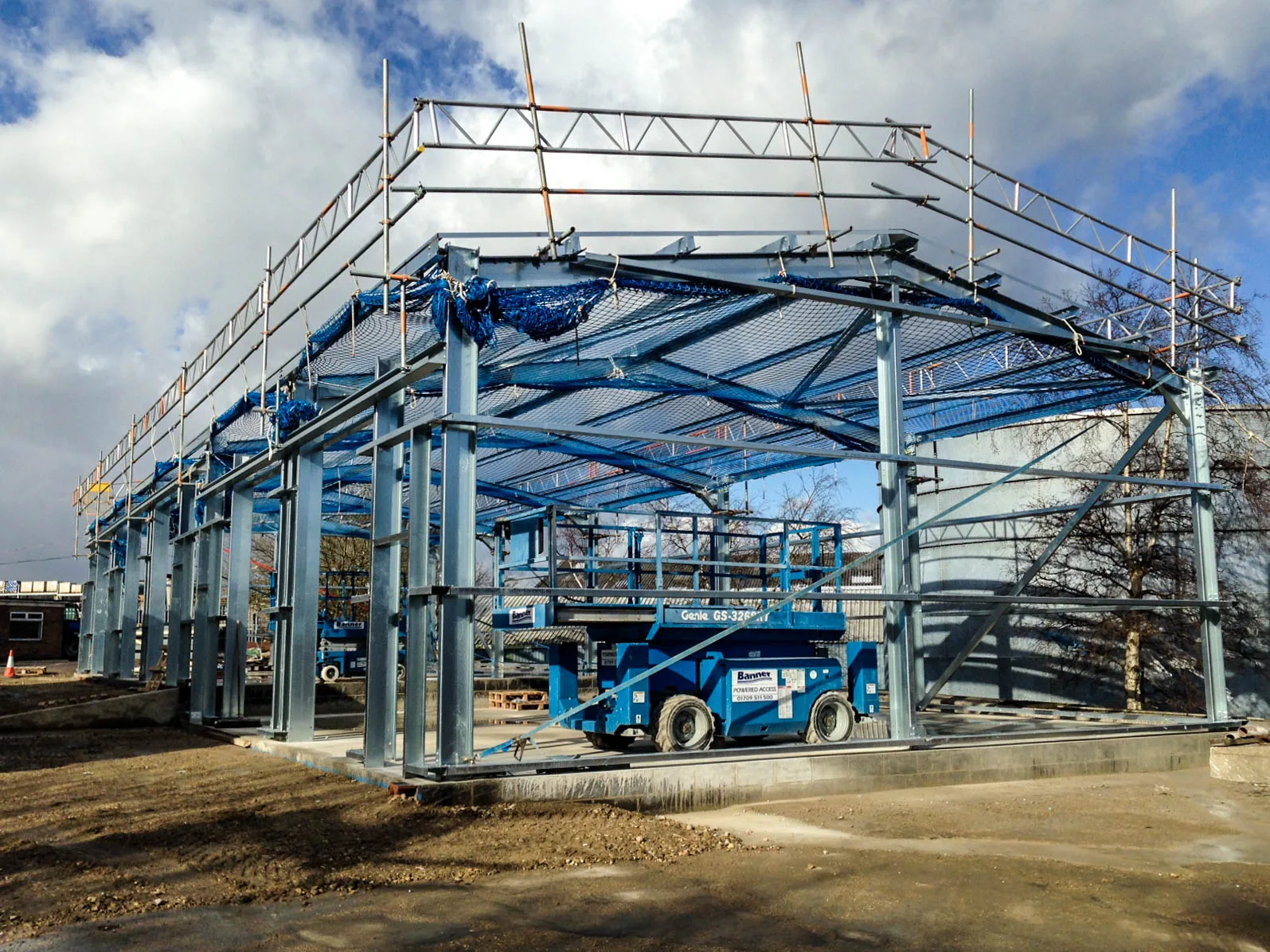 PROFESSIONAL STEEL BUILDING INSTALLERS AVAILABLE
At Springfield Steel Buildings, our steel building installation services are designed to meet the most stringent quality and durability standards. One of our most sought-after features is the A-frame vertical roof, which offers superior water runoff and snow load capabilities.
To ensure maximum durability and weather resistance, we employ concrete polyurethane sealant at crucial junctions, offering an extra layer of protection against the elements. 
Foam gap closures are meticulously installed to prevent air leaks and enhance thermal efficiency, while our overhead door openings are engineered for both functionality and security. 
Furthermore, we utilise high-quality steel panels and roof panels designed to withstand various environmental conditions, ensuring your building's long-term durability. A steel ridge cap is installed to complete the structure, seamlessly uniting the roof panels for a polished finish and additional leak prevention. 
Trust Springfield Steel Buildings for an installation combining aesthetic appeal and lasting resilience. 
Why Choose Our Team To Install Your New Metal Building?
Opting for a steel building is an investment in durability, functionality, and long-term value, but the quality of installation is crucial for realising these benefits. When you choose Springfield Steel Buildings for your new metal building installation, you're not just getting a service; you're gaining a dedicated partner committed to your project's success.
Our team comprises certified professionals with years of industry experience, ensuring that your metal structure is installed to the highest quality and safety standards. We utilise advanced tools and techniques to complete your project efficiently and effectively, minimising disruptions to your operations.
Our meticulous attention to detail, unwavering commitment to client satisfaction, and transparent process that keeps you informed at every step sets us apart.
With Springfield Steel Buildings, you can trust that your metal building installation will stand the test of time, providing you with peace of mind and a solid return on your investment.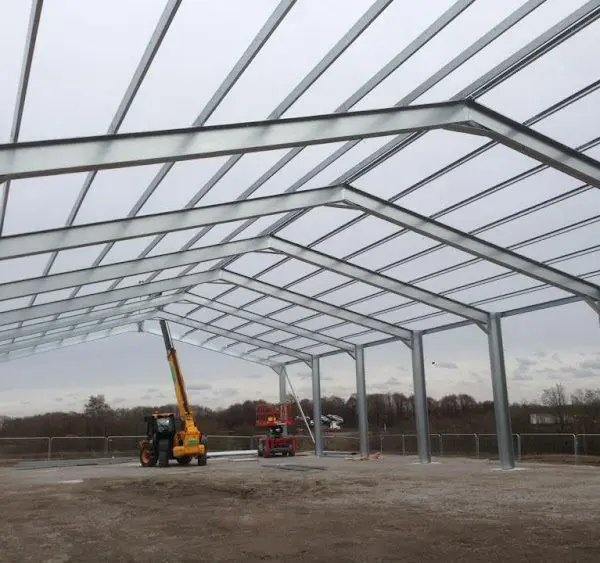 ROOF AND WALL CLADDING SERVICES
Springfield Steel Buildings provides comprehensive roof and wall cladding services for all existing steel-framed structures. Our expertise particularly shines in live, operational business settings where maintaining a professional image during construction is paramount.
With an exceptionally skilled construction team at your service, we offer both cladding and refurbishment solutions tailored to your needs.
Opting for over-cladding can rejuvenate an ageing structure swiftly and efficiently, enhancing its aesthetic appeal and functional integrity. This not only breathes new life into your building but also elevates the professional image of your business, ensuring you make a lasting impression on your clients.
BENEFITS OF CLADDING YOUR STEEL BUILDING
Cladding your steel building offers a multitude of advantages that go beyond mere aesthetics. First, cladding protects against environmental elements, effectively shielding the underlying structure from corrosion, moisture, and UV damage.
This enhances the building's lifespan, reducing long-term maintenance costs. Thermally insulated cladding options contribute to energy efficiency, helping regulate interior temperatures and lowering heating and cooling expenses.
Furthermore, cladding allows for design versatility, enabling you to choose from a wide range of materials and finishes to suit the specific look and feel you wish to achieve for your business.
This, in turn, can positively impact your brand image, attracting more clients and opportunities. Cladding is a wise investment that adds functional value and aesthetic appeal to your steel building.
40 YEAR WARRANTY AVAILABLE ON ALL ROOF AND WALL CLADDING
All our steel buildings utilise modern cladding systems providing durability, easy maintenance and warranties for up to 40 years. The walls can be insulated and have low-level brickwork, windows, doors, curtain walling and mezzanine floors installed to suit your needs, giving you a light, spacious, modern, workable environment.
We are here to assist if you require additional services to complement your new building, including Planning and Building Regulation Approval, Foundation Design, Groundwork and Internal Work.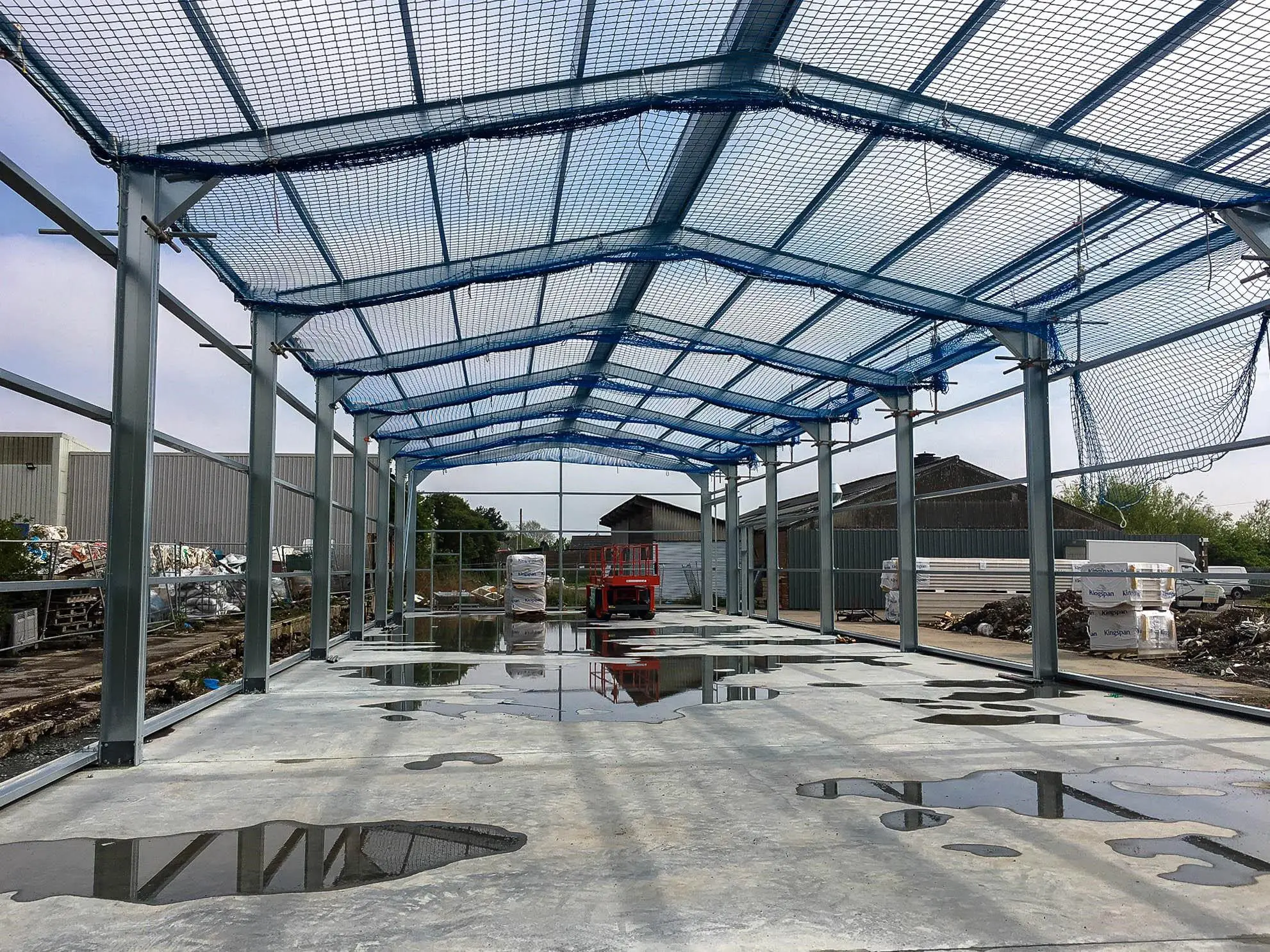 ROLLER DOOR INSTALLATION SERVICES
Our Roller Door Installation Services at Springfield Steel Buildings have you covered in maximising security and convenience in your steel building.
Specialising in various roller door solutions suitable for commercial, industrial, and residential settings, our certified technicians ensure a seamless and efficient installation process from start to finish. We utilise only the highest-quality materials and cutting-edge technology, ensuring your roller door operates smoothly, withstands the elements, and meets all safety standards.
Our services are tailored to your needs and building specifications, offering manual and automated options for easy access.
With our Roller Door Installation Services, you can enhance the functionality of your space while adding an extra layer of security, thereby making a solid investment in the long-term value of your property.
PROFESSIONAL CONSTRUCTION MANAGEMENT
When selecting SSB, you are employing the services of a highly experienced team of civil engineers, structural engineers, contracts managers and site managers with many years of knowledge and expertise in the construction industry. This ensures that every project is carefully thought through and delivered safely, on time and within budget.
We advise on every aspect of a construction project from the planning stage to ensure your bespoke building project is carried out without any complications.
Our construction workers are all full-time employees, supervised by a working foreman. Our health and safety standards are why we have a long-established and solid client base with regular national and international orders.
Many of our clients are blue-chip companies which require the very best in Health and Safety, and we are often asked to provide our services in live working environments.
All our steel erectors and cladding operatives are full-time employees trained and knowledgeable in the safe, correct construction of our innovative steel frame buildings.
All Site operatives are CSCS certified with competence in using Mobile Elevated Working Platforms and telescopic forklifts. Site supervisors have all passed the CITB – SSSTS and have attended a three-day emergency first aid course.
OUR EMPLOYEE'S SAFETY IS TAKEN SERIOUSLY
At SSB, our Steel Building Installation Service is carried out by our full-time employees, who are fully trained and experienced operatives. Each construction project is assigned a working foreman who will monitor the Health and Safety standards of the operatives and ensure a high-quality finish is carried out.
Springfield Steel Buildings benefits from an unblemished safety record, so we have repeat business from our longstanding client base in our high standard for erecting steel structures.
We employ Health & Safety advisors to ensure we are current on the latest Health & Safety legislation. Our steel building installation works are often carried out in the eye of the public, which reflects on the business we are working for.
All our installation projects are implemented under the new Construction (Design and Management) Regulations 2015, which came into force on 6 April 2015.
Our steel construction sites are assessed, and each project receives a site-specific method statement, risk assessments and COSHH assessments.
All site supervisors are trained in the CITB Site Supervisor Safety Training Scheme (SSSTS) and hold a full 3-day emergency first aid qualification.
FULLY QUALIFIED OPERATIVES
At a minimum, our site operatives hold CSCS cards, NVQ qualifications in Steel Installation, Roof Sheeting and Cladding, and IPAF operator cards for scissor lifts and cherry pickers.
Experienced operatives are fully trained with telescopic forklift qualifications and are certified in slinging and signalling.
We employ fully qualified fall arrest safety equipment training approved riggers to provide our safety netting and edge protection to all our projects to ensure the safety of our employees whilst undertaking roof installations.
Our management teams have 60 years of experience in construction and structural engineering; they are also trained in the CITB Site Managers Safety Training Scheme (SMSTS).
CONTACT US FOR STEEL BUILDING INSTALLATION SERVICES TODAY
Take advantage of the opportunity to experience top-tier steel installation services that are competitively priced and offered nationwide. At Springfield Steel Buildings, our team of dedicated professionals is committed to exceeding your expectations—our "happy to assist" approach ensures that your project gets the personalised attention it deserves.
The benefits of steel building installations are manifold, ranging from durability and cost-effectiveness to quick construction timelines. To dive deeper into these advantages, don't hesitate to contact our expert team today for a comprehensive consultation.
Known for our high standards, we specialise in cold-rolled and hot-rolled steel structures, earning us a stellar reputation across the UK. We don't just limit ourselves to one region; our services are accessible in major cities, including London, Leeds, Manchester, Birmingham, and Peterborough.
Whether you're looking for a commercial warehouse or a residential steel building, we've got you covered. For an investment that promises long-term returns, contact Springfield Steel Buildings or call us at 01482 304504. Secure your future with a steel building that stands the test of time.