Mezzanine Floors And Internal Structures
SPRINGFIELD STEEL BUILDINGS CAN PROVIDE EVERYTHING YOU NEED FOR MEZZANINE FLOORS; WE CAN PROVIDE A FUNCTIONAL AND COST-EFFECTIVE SOLUTION. NOT ONLY DO WE PROVIDE A MEZZANINE FLOOR THAT IS HIGH-QUALITY, BE WE CAN PROVIDE YOU WITH A BESPOKE MEZZANINE FLOOR, EXPANDING YOUR EXISTING SPACE!
Enquire online today for a free Quote.
EXPAND YOUR EXISTING SPACE WITH A BESPOKE MEZZANINE FLOOR
Optimise your industrial steel building with Springfield Steel Buildings' bespoke mezzanine flooring solutions.
Expertly designed to integrate seamlessly into your existing facility, our custom-crafted mezzanines expand your operational area and can be applied in virtually any environment, whether you need additional office space above your production area or extra floor space for storage.
Manufactured using high-grade steel, our mezzanine floors are durable and adaptable, suited to a wide range of uses—from office spaces and retail outlets to warehouses and manufacturing plants. Leverage the advantage of vertical space and take your business to new heights.
Our team will conduct a site survey to determine what type of new space you need; during this initial consultation, we will discuss fire rating and whether you need pallet gates and answer any questions you might have!
Choose Springfield for a robust, reliable, tailored solution that meets your requirements. Our high-quality service is not matched, so contact our team for competitive prices on mezzanine flooring; we always offer a cost-effective way to expand your steel building!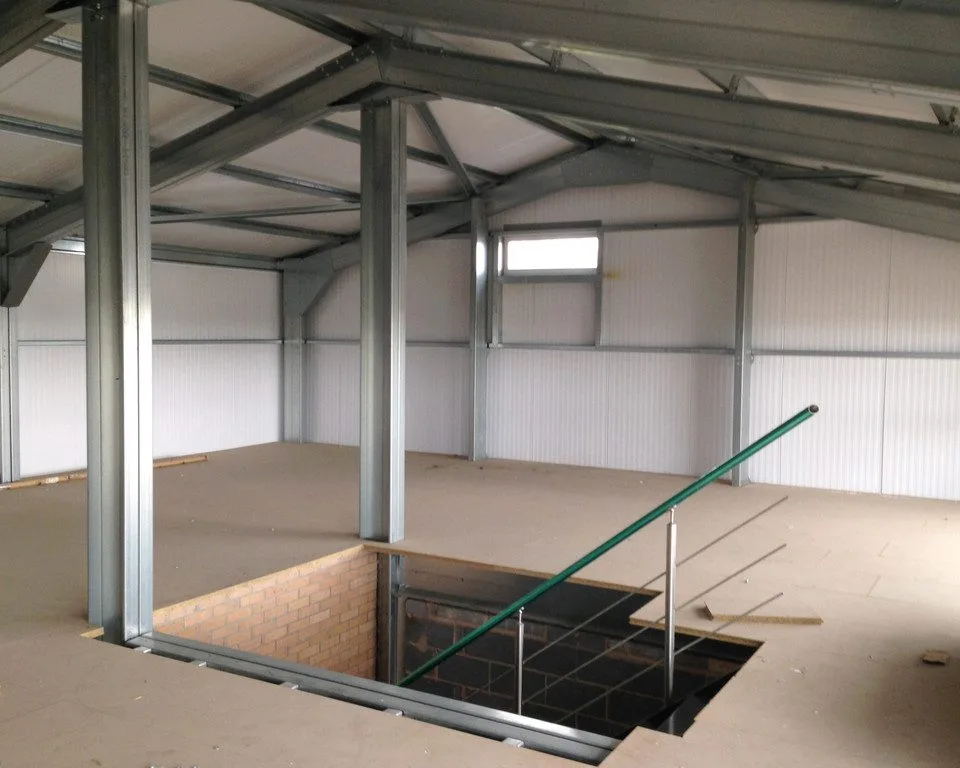 MEZZANINE FLOORS CAN TRANSFORM YOUR INDUSTRIAL STEEL BUILDING
Unlock the full potential of your industrial steel building with a state-of-the-art mezzanine floor. Ideal for maximising space and improving operational efficiency, mezzanine floors can dramatically transform your facility into a multi-level powerhouse.
Whether you're looking to expand storage, create additional workstations, or designate new areas for specialised tasks, mezzanine floors offer a versatile and cost-effective solution.
Suitable for increasing storage in agricultural buildings or expanding your distribution centres, mezzanine floors are the ideal solution!
Made from high-quality steel, these structures are engineered for durability and adaptability, ensuring they seamlessly integrate into your existing setup.
Take your industrial steel building to the next level—literally and figuratively—with a mezzanine floor.
BENEFITS OF STEEL MEZZANINE FLOORS
HIGHLY SKILLED MEZZANINE FLOORING TRADESMEN
We offer our customers more than just the steel building at Springfield Steel Buildings. We pride ourselves on being able to offer our customers the full construction package, which includes mezzanine flooring.
We employ a vastly experienced team that has many years of knowledge and expertise in both engineering and construction. With the ability to undertake internal and external work confidently, we have worked hard to obtain a consistent quality and reliability reputation.
Our team of highly skilled tradesmen have the experience to undertake all manner of internal or external works. We strive to hand over a quality finished product, on time and budget, to our client.
Our team fully complies with all fire-rated requirements and the installation of CE-marked products, including shelving, warehouse storage and much more!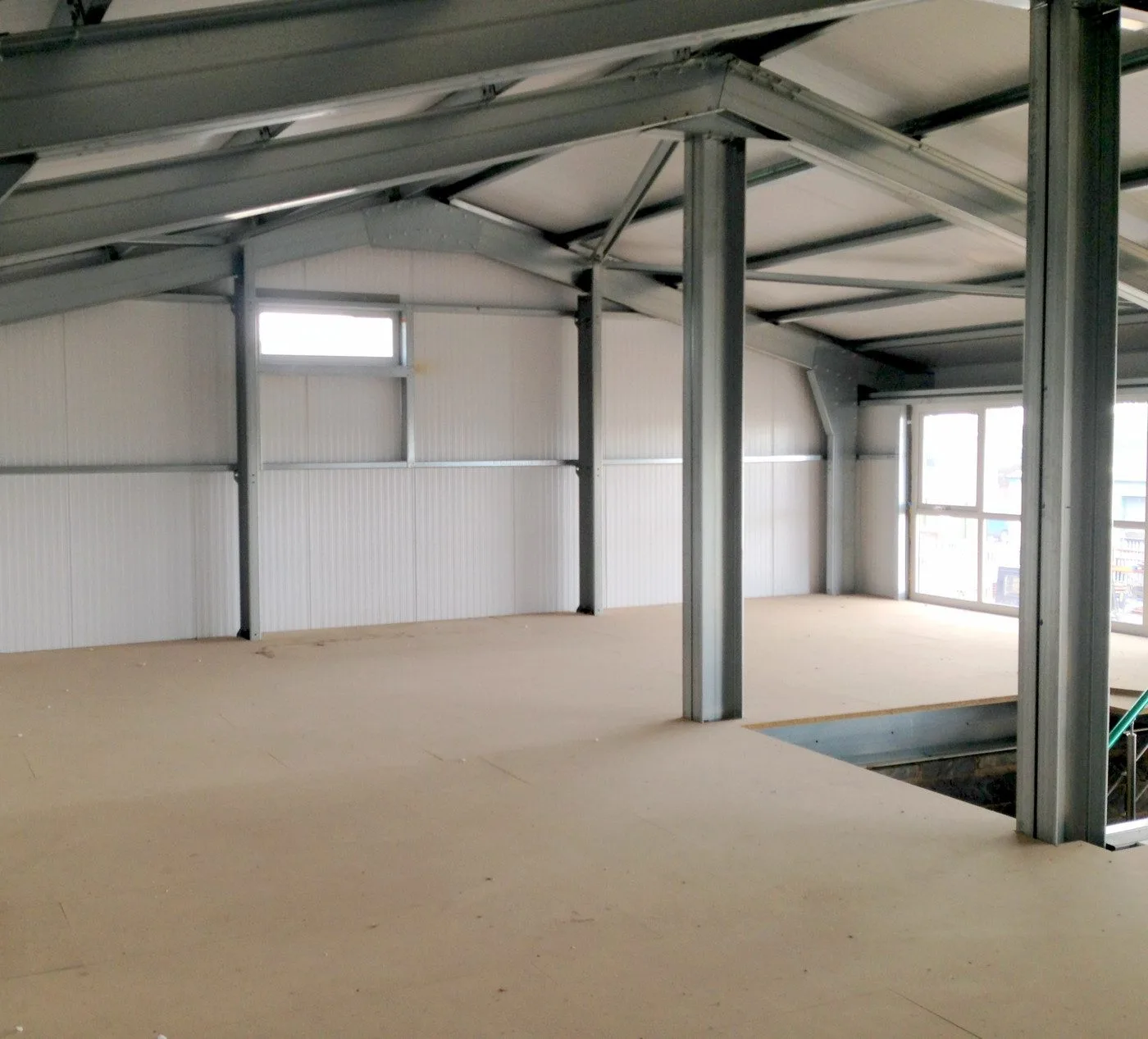 OUR MEZZANINE FLOOR PROCESS
Free Site Survey
We recognise the critical nature of nailing down these specifics to deliver a precise quote and fully comprehend your space and objectives.
Design Process
Ensure the end design fulfils your immediate needs and aligns with your long-term goals. By optimising your floor area and crafting a functional space that meets compliance standards, we help you maximise your investment. Our technical team utilises CAD design to give you a clear picture of the final product so you're fully informed before greenlighting the project.
Building Regulations
Each mezzanine floor must adhere to building control regulations and receive approval from a certified inspector. With a wealth of experience navigating these rules and legal requirements, our team will assist you throughout the design journey to guarantee your final structure meets all compliance standards. We also collaborate with authorised inspectors to make the entire process as smooth and worry-free as possible.
Installation Process
We're proud to collaborate with our team of skilled and proficient installers who excel in delivering mezzanine floors and other features like pallet racking, shelving, ceiling systems, and various partitioning solutions. They work efficiently and courteously to craft the spaces you envision.
CHOOSE OUR NATIONWIDE SERVICE
We realise that purchasing a steel building mezzanine can be lengthy, and dealing with a long list of architects, contractors, builders and planners can lead to confusion and be time-consuming.
At Springfield Steel Buildings, we are structured to deal with all these areas under one roof, providing a hassle-free solution.
Our services can be delivered competitively on a nationwide basis. For a no-hassle competitive quote, please contact Springfield Steel Buildings.
CONTACT OUR TEAM FOR A MEZZANINE FLOOR TODAY
Our first-class steel installation services are regularly delivered nationally at competitive rates with our operatives with a happy-to-assist mentality. There are so many benefits to steel building installations. For more information, call our experts today!
Invest in a company with a reputation for supplying and installing high-quality cold-rolled and hot-rolled structures throughout the UK; this includes mezzanine floors, providing extra space when needed. Our fully compliant team can operate on bigger premises or smaller; whatever you need, we can help!
Contact Springfield Steel Buildings or give us a call at 01482 304504.