Visit Springfield Steel Buildings if you're looking for steel buildings in Leeds. We are the UK's top provider of custom steel framed buildings and groundworks and can help with the design, supply, and installation of steel framed buildings in Leeds, UK.
Enquire online today for a free Quote.
DO YOU NEED A STEEL FRAMED BUILDING IN LEEDS?
With more than 15 years of experience in steel-framed building construction, Springfield Steel aims to deliver a high-quality building service that you can rely on. We offer ce-marked structural steel buildings suitable for commercial and industrial use, as well as agricultural buildings and steel garages. So whatever your needs are for quality buildings in steel frames in Leeds, be sure to contact Springfield Steel today for more information.
Choose Springfield Steel Buildings when you need steel buildings in Leeds. As industry leaders, we make sure that all of our customers and clients receive turn-key, affordable steel-framed structures on a nationwide basis. With every steel building that we install and provide, we aim to create and construct a more sustainable future. Our metal buildings and steel building services are incredibly competitive and ensure the quality. If you're interested in learning more about steel-framed buildings in Leeds, get in touch with Springfield Steel Buildings today. We can give you a free quotation! Over the years, we have produced and completed a number of steel building projects throughout the region.
HOW DO WE CONSTRUCT OUR BUILDINGS?
Steel buildings are steel-framed constructions that largely consist of steel columns, trusses, and beams. These structures are renowned for their sturdiness, strength, and resistance to extreme weather. They are frequently used in commercial and industrial environments like factories, warehouses, and storage facilities. Steel structures, however, can also be used for domestic applications including residences, garages, and workshops. 
Steel structures are prefabricated at a factory before being put together on-site, which can considerably speed up and lower the cost of construction. We can provide structural calculations at Springfield Steel Buildings, allowing us to customise them to match particular design specifications. They are offered in a variety of sizes, styles, and finishes.
Steel framed buildings are often used for their durability, strength, and versatility. Here are some reasons why steel framed buildings are a popular choice:
Strength and Durability: Steel is an incredibly strong and durable material. Steel framed buildings can withstand high winds, earthquakes, heavy snow loads, and other extreme weather conditions. They are also resistant to pests, fire, and rot.

Speed of Construction: Steel framed buildings can be constructed quickly because the steel components are pre-fabricated off-site and then assembled on-site. This can save construction times and reduce construction costs.

Design Flexibility: Steel can be shaped and formed into almost any shape or size, giving architects and designers more flexibility in their designs. Steel structures can also be easily modified or expanded if needed.

Sustainability: Steel is a highly sustainable building material. It is 100% recyclable and can be reused or repurposed. Steel framed buildings are also energy efficient and can be designed to minimise waste and reduce environmental impact.

Cost-effective: Steel framed buildings can be cost-effective compared to other building materials. Steel is often less expensive than concrete or masonry, and the speed of construction can also reduce labour costs.
Overall, steel framed buildings offer a combination of strength, durability, flexibility, sustainability, and cost-effectiveness, making them a popular choice for a wide range of construction industry projects.
STEEL BUILDINGS FOR DOMESTIC AND COMMERCIAL CUSTOMERS
At Springfield Steel Buildings, we work closely with both domestic and commercial customers, making sure that we understand their concepts so that we can provide the best service, on time, within budget, and with everyone's safety in mind. Because we have been in business for more than 15 years, we have a loyal clientele that ranges from big blue-chip corporations to small private individuals. You can be confident that we have your best interests in mind when it comes to saving you money on your project thanks to our first-rate customer service and open quotations. Contact Springfield Steel Buildings for your needs in steel framed buildings now for a comprehensive and professional service.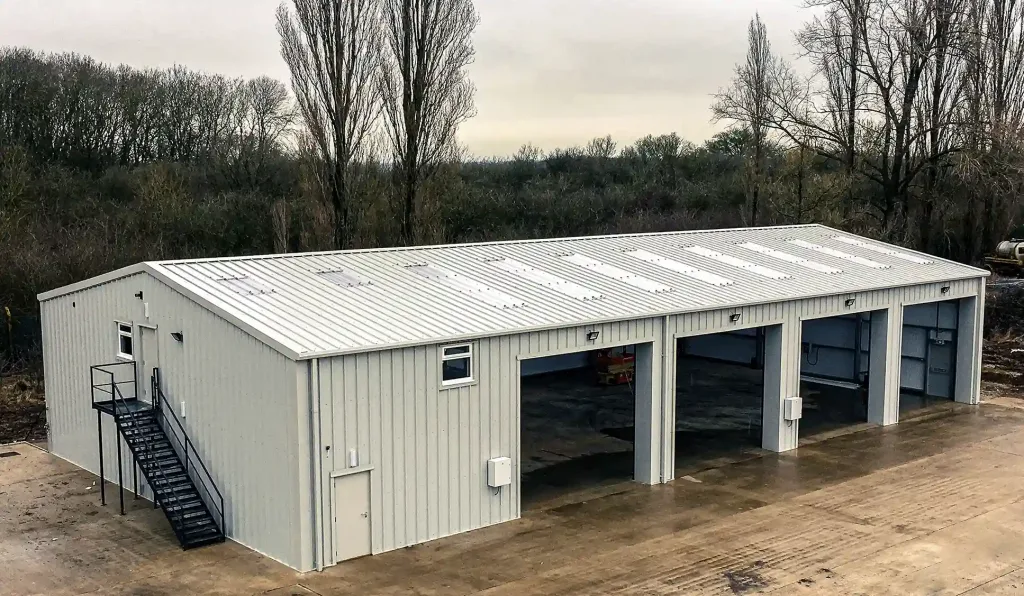 FOR 'STEEL BUILDINGS LEEDS', CALL TODAY
Simply contact Springfield Steel Buildings or give us a call at 01482 304504 if you need steel buildings in Leeds. Springfield Steel Buildings is known for providing and erecting high-quality steel framed structures all throughout the UK.
Whether it's talking about a solution for your procedure or current projects, we're always ready to help you. We have many years of experience in the steel-framed building business behind us. From a steel building to an aircraft hangar, our team of professionals is here to provide a solution that responds to all your demands. Give our staff a call right now to learn more about our procedure, pricing, maintenance, or repair services.
We also provide our steel building services across London, Manchester, Birmingham, Peterborough.