Cold Rolled Steel Buildings
Cold rolled steel is more economical than hot rolled steel when used as a portal frame design, due to the amount of steel used. It is thinner and lighter, whilst also still strong, thus requiring less overall steel to provide the same or similar strength to a hot rolled building. Portal frames consist of two columns connected by a 3rd member, generally a rafter.

Cold rolled steel is also lightweight, making it easier for the components to be assembled together onsite. This means there are cost savings in the manufacturing process, transportation costs, and installation on site




.

During the manufacturing process, cold rolled steel is cut and shaped very precisely to tight tolerances. This helps to reduce the cost and waste when making the steel members.

The cold rolled steel is produced with a galvanised finish to protect it from rust. You won't need to apply any further treatments.

The cold rolled sections within a steel building are covered with a warranty of up to 25 years, but will last for up to 30+ years.

Due to the structure being lighter than traditional hot rolled steel buildings; costs are usually saved on the

groundworks

element of the contract, as they exert less weight onto the foundation. This allows for a simpler raft foundation design, which equates to at least a £1000+ saving for the client. On a traditional hot rolled steel building, it may be necessary to pile the foundations, leading to expensive groundwork costs.

Cold rolled buildings are ideal for

workshops

,

storage buildings

,

industrial units

, car showrooms etc, where the structure is not asked to perform any other function.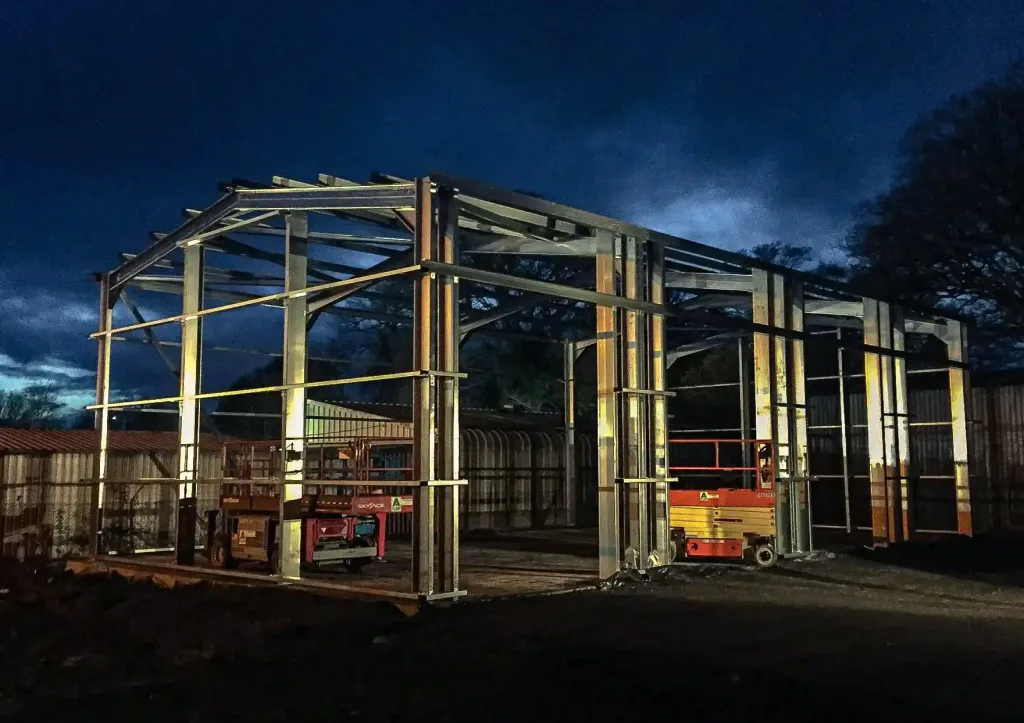 Hot Rolled Steel Buildings
Hot rolled steel buildings are manufactured with many different weights of steel from 13 kg/m to 388 kg/m depending on its use. This steel is usually shot blasted and painted or galvanised to prevent rusting and to prolong life.

Hot rolled steel buildings will last up to 40–60 years so you'll get plenty of use from your building, providing a durable and long lasting option.

Hot rolled buildings are ideal for

farm buildings

and heavy industry, where the steel frame may require loadings against the sidewalls or when gantry cranes are used. They are also ideal for

commercial or public buildings

, such as offices, schools and hospitals as the robustness of the frame allows for better security and durability, especially for larger buildings.

Although seen as more expensive, within larger and more complex buildings, hot rolled steel can be more cost effective, as less steel is needed to create such elaborate structures at such large scales.

Due to the durability of hot rolled steel, in comparison little effort is needed during transportation, unlike cold rolled buildings which are more susceptible to damage or deformation during transport.

Hot rolled steel is more widely available than cold rolled steel, thus being overall cheaper, and easier to source for the required projects all over the UK.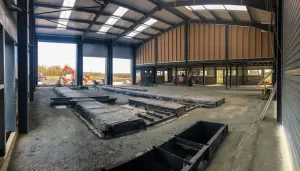 What should I choose?
In some cases, both hot and cold rolled steel may be used in the same building, allowing a carefully optimised building for both cost and efficiency. This would often be done through a hot rolled steel frame, with cold rolled secondary framing and/or cladding.
Here at Springfield Steel Buildings, we provide competitive quotations for both cold rolled steel and hot rolled steel buildings. We always aim to provide a value-engineered solution for the customer's building requirements. Our team is available to discuss any aspect of your steel building project, and we can be reached at 01482 304504 or by email at sales@springfieldsteelbuildings.com.
In conclusion, both hot and cold rolled steel have their advantages and disadvantages. It is important to consider the specific needs of the project to determine which type of steel is most appropriate. Regardless of the choice, steel buildings are a durable, cost-effective, and versatile option for many building applications.